Growing Thai Hot Peppers
Growing Thai Hot Peppers means you're growing a delight.  The low-growing plant blossoms profusely and produces a bounty of bright red peppers, pointing upwards.
A Little About the Peppers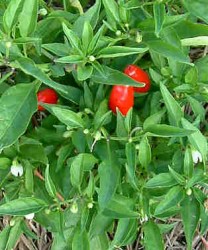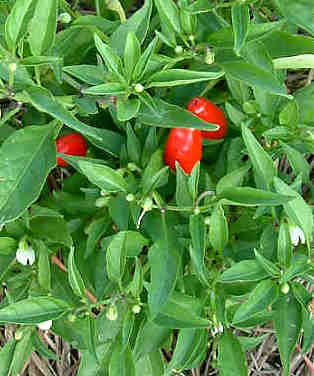 Thai Hot is equally at home in a container or in the ground.  A three-gallon container will suit this pretty little pepper just fine.  You might even be able to get away with a 1-gallon container, if you keep it well-watered and fertilized.
I have the plant in the photo (and by the way, you can click on the photo to see a larger picture) growing in the ground, and it's about 8-inches tall.  It's also spread about 7 inches in diameter.
Now in the photo you only see 3 red peppers, but see all those blossoms and blossom buds?  In a couple of weeks, the plant will be covered with peppers.
Can You Eat the Peppers?
Sure you can, but be warned –they aren't called "Thai Hot" for nothing!  One chopped pepper (with seeds) can easily season a large bowl of chili.
Speaking of the peppers, they are only about 3/4″ tall.  They aren't large, but they are potent.
But the charm of these peppers is ornamental.  They make a great garden border, looking like bright red flowers.  And of course, you could each day pick a few of the peppers in the border and you'd never see a difference.
Growing Thai Hot Peppers
My pepper plant survived some very chilly weather early this season, with temperatures down in the 30's.  It was a little sad-looking until the cold weather passed, but then came back admirably.
As with all chile peppers, they like warm weather and plenty of sunshine.  I mentioned that you can grow these in containers easily, and Thai Hot could certainly be grown indoors under lights.
An an FYI, there is a larger variety, called Giant Thai Hot.  I haven't tried it yet, but the peppers get to about 2″ long, instead of the normal 1/2 to 3/4 inches.  There's also a version that has orange peppers instead of red.
6 Responses to Growing Thai Hot Peppers